in Creative
Design strategist touts the power of print's messaging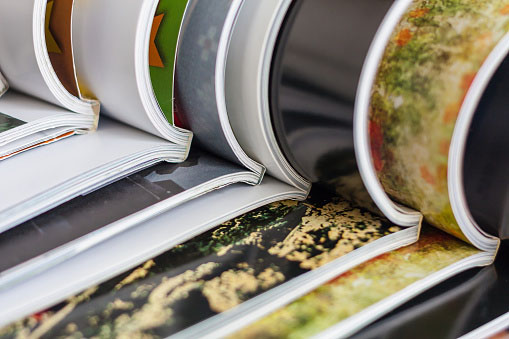 Eight seconds. That's all of the time that you have to catch somebody's eye. And if you don't think that's enough time, Vicki Strull has news for you. It's only getting shorter. As a highly sought-after design strategist, Strull understands that to be seen—to build a brand that your marketplace can trust—your message has to be bold, colourful, attractive and compelling. With 25-plus years in the field, she knows a thing or two about bringing fresh ideas and a big-picture perspective to the table. We sat down with her to get her thoughts on why print is still a critical option in a brand's effort to earn trust from their communities.
How does print continue to touch our lives?
It's everywhere and in practically everything we see and do. Concert tickets. Posters. Greeting cards. The brands we buy all the time. We have interactions with print all day long, many times not even aware of its impact on us. We couldn't live without it.
What must you consider when using print within a campaign?
Today's campaigns have a lot of different components. Your print needs to be integrated into your campaign. It has to match the messaging, the design, the desired outcome. In today's omnichannel world, it's one of the touchpoints.
Is designing for print becoming a lost art?
In some ways, yes, especially with new designers who are trained in specific media like designing apps or websites or digital marketing campaigns. Too few of today's generation of designers are taught to design for print or understand what it means to design for print.
What can we do about this?
We need to give them a lot of education and inspiration. We need to help them get past the idea that print is a static touchpoint—that it's old-fashioned. Just look at packaging and personalization. These are two areas where print is on the rise. Direct-to-consumer is another one. These are areas where young designers are getting excited about print. Brands like Warby Parker and Peloton have plenty of print touchpoints in their packaging and instructions once you get these products home. They're designed to enhance the consumer experience.
Brand recognition of this can only help print, right?
I think many brands are starting to recognize the importance of having a print strategy within their multi-channel marketing strategy. And within that strategy, you talk about what's tactile and why that's important. What's memorable? What's something you can save? What's something you can personalize? Gen Z wants everything customized.
Part of the gap is many brands and marketing professionals don't know how to customize for print.
That's something I do. I consult with brands and marketers about making the most of their design strategy and incorporating the best of print. Since fewer designers know how to design for print, the printers and partners they work with are going to have to educate them about what's possible.
What's the best advice you can offer for using design within a campaign?
It has to be strategic across your multi-channel campaign. Your print has to be integrated. A multi-channel campaign gives you a unique opportunity to leverage the power of print itself. The design is not a direct replica of the e-blast or digital elements. It leverages its own unique qualities for creating connection with consumers.
What would you tell today's young designers about print and its value?
Don't discount print. Don't think of it as an "old art." Don't underestimate its power to touch your senses; to create a completely different experience for your audience than anything you'd ever experience on a digital device.